A DIY Bathroom Remodel as a Catalyst for Personal Growth?
You wouldn't think that a bathroom remodel would be the catalyst for personal growth. But, as wellness is the active pursuit of a seeking balance, any experience can be encompassed in that pursuit and provide useful insights in all the domains of life. Upon embarking on this collaborative DIY bathroom remodel project with my husband, I knew it would have its challenges. But, it is only after completion and reflection upon the experience that I realized there were plenty of lessons tucked between the sheets of drywall, porcelain tiles and coats of paint.
What we learned was simple, but applicable to all areas of life…
The first step is the hardest

Learn from the wisdom of others

We can do hard things

Know when to ask for help, but try first and you might surprise yourself!

There is nobody to blame / mistakes are part of the process

Sometimes done is better than perfect

Learning to pace ourselves was hard (working around life)

DIY projects test your communication skills

Living in a construction zone is disconcerting

We probably didn't save any money
This incremental approach has been a reminder to me, in other areas of life, as well. When I feel something is too big to tackle, or beyond my understanding, I just commit to starting to see if I can pick-up momentum and clarity as I go.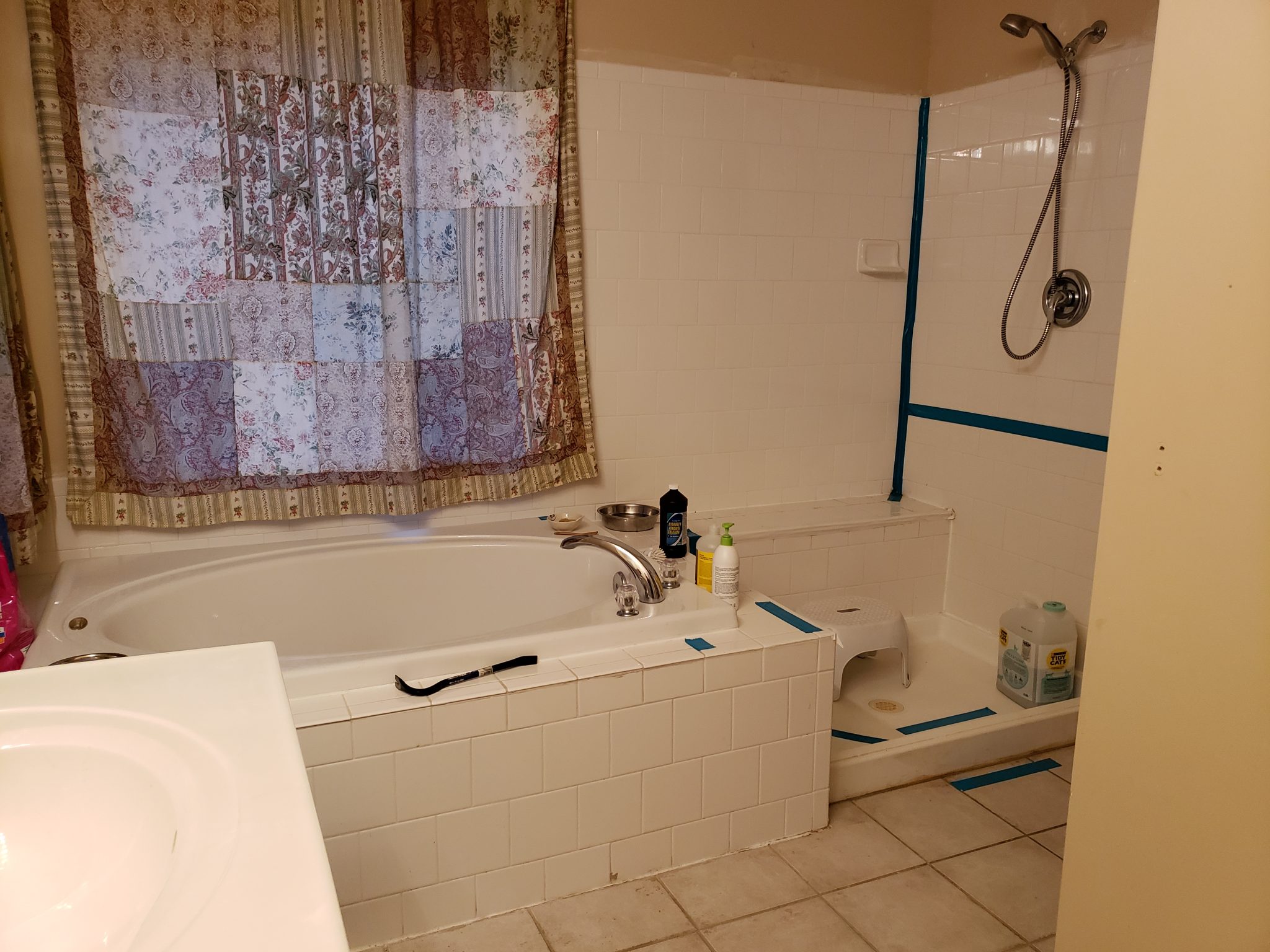 1. THE FIRST STEP IS THE HARDEST
We knew it was there for a while. Mold. We had been ignoring it because we didn't have the time, energy or resources to tackle, what we expected would be, the huge project of a bathroom remodel. But, on a pre-pandemic Spring day, back in May of 2019, the mystery of the magnitude of what might be festering beneath the surface of our ceramic white tiled shower walls was too much for me. So, I did what I knew would be the catalyst to change; I swung the sledgehammer into the tub tile surround. Done. Now, there was no turning back. Operation DIY Bathroom Remodel commenced! At first, Darren (husband) was not overly supportive of my impulsive decision, but I could tell, once the first few tiles were coming off, he was glad we were finally uncovering the problem.
So, we called in the kids to help with the symbolic removal of the first bits of the demolition process, at which point, we realized we were in for a long and labor-intensive job to move the bathroom back in the direction of a functional space. Our confidence was not yet shaken, nor was it overly high. Of course, we did not realize, at the time, that the bathroom remodel process would be the backdrop to our life for over another year, and we were just determined to take one step at a time.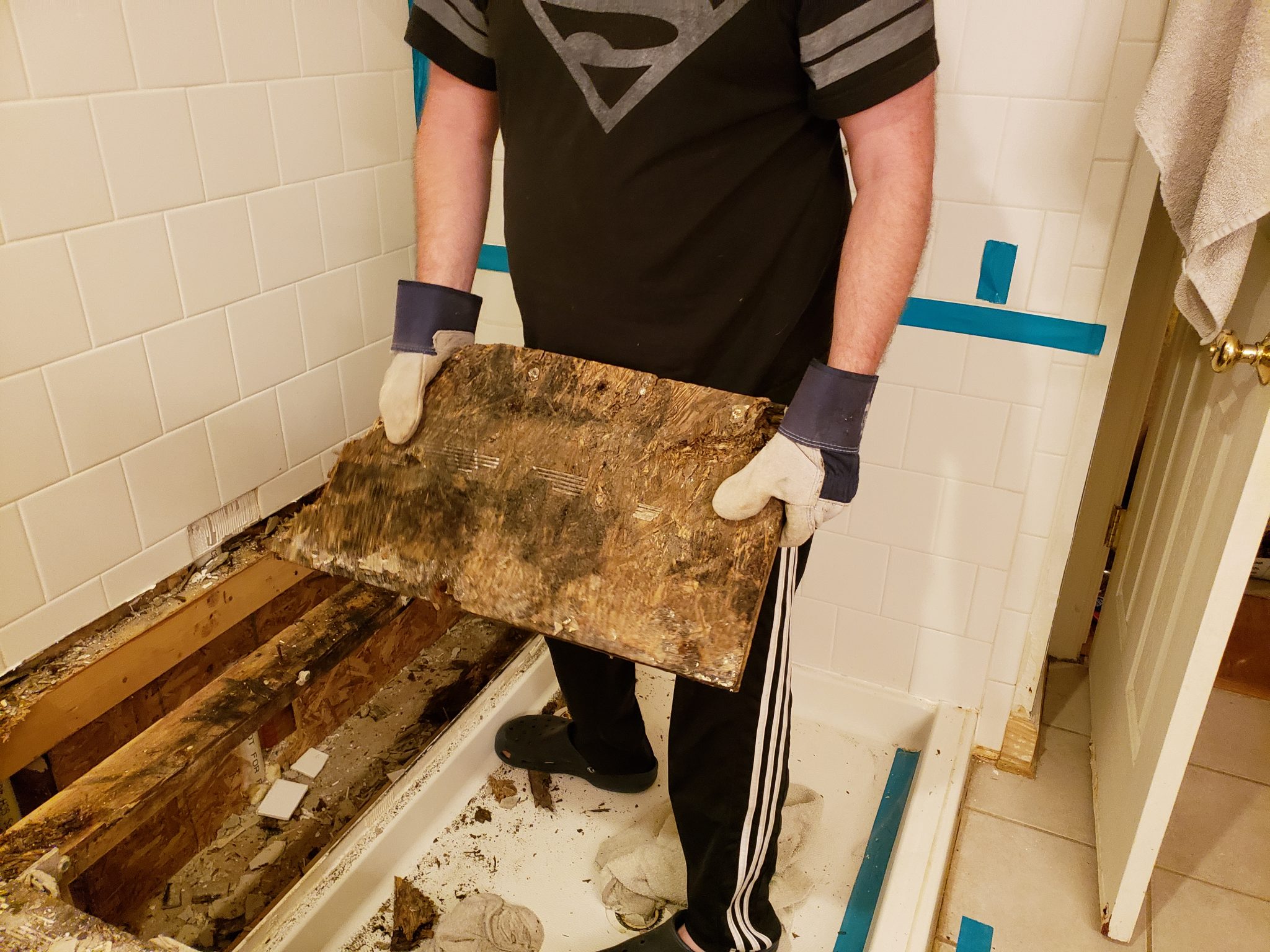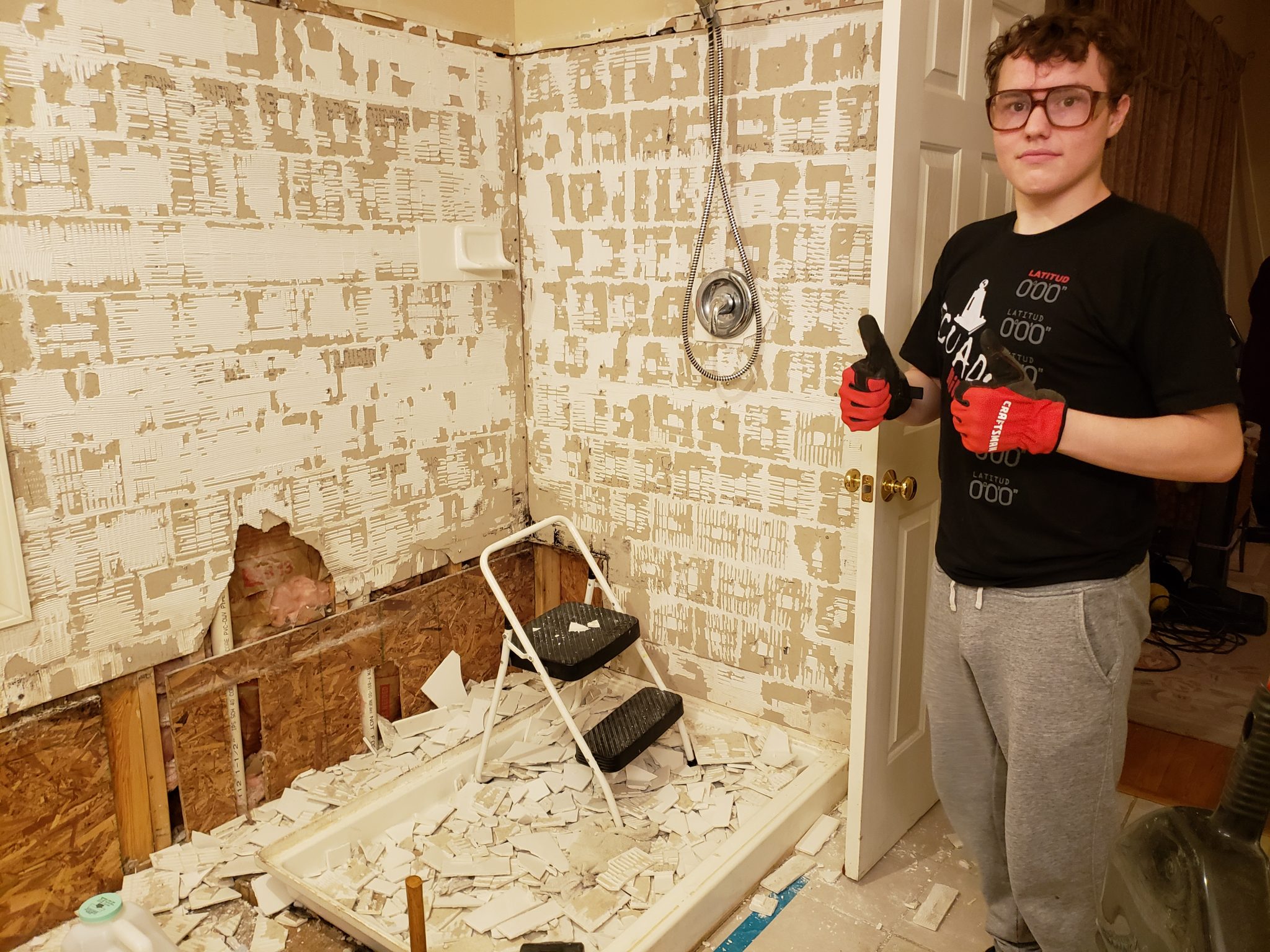 2. LEARN FROM THE WISDOM OF OTHERS
And, to facilitate those steps, let me just say, thank the Universe for Google and YouTube! If you have skilled friends and family that can pass on their knowledge, definitely tap into that resource! Unfortunately, we were entering uncharted waters without an experienced navigator (or even a good map), so we were incredibly thankful for the abundance of useful tutorials and how-to videos, blog posts and on-line instructions that were available to us. They helped us push through when we hit a wall (metaphorically speaking, of course) in our bathroom remodel project.
In the absence of our knowledgeable friends and family members, I marvel at how much video has changed the average person's DIY opportunities. I am sure the occasional individuals have DIYed themselves into a costly mistake or a structurally unsound situation, but for the most part, video tutorials have expanded the possibilities for homeowners to tackle jobs, of all sizes, themselves… for better or worse! So, to all of you humans out there that take the time to create content to help others, in all areas of life, thank you. You made our DIY bathroom remodel possible!
3. WE CAN DO HARD THINGS
With each small, but challenging, step we overcame, our confidence to tackle the next one grew. There was a point, in the beginning, when we had completely removed half the sub-floor and part of the walls, when we thought we were in way over our heads. But, rather than focus on our lack of skill and great potential for screwing things up, we broke each short work session down into manageable tasks. Some days, that task just consisted of getting to the home improvement store to purchase more supplies, so that the next time we had a two hour window to work, we'd be ready. This kept Operation DIY Bathroom Remodel moving along.
And, though this "hard thing" often made us feel like we were sacrificing family time to work on the bathroom remodel, looking back, I think it was a good lesson for our kids, too. At the very least, they saw their parents hold it together, despite feeling close to burnout at many points along the way. And, aside from helping out occasionally, and maybe learning a few new practical skills, I hope they learned that perseverance and consistency are the keys to overcoming many challenges.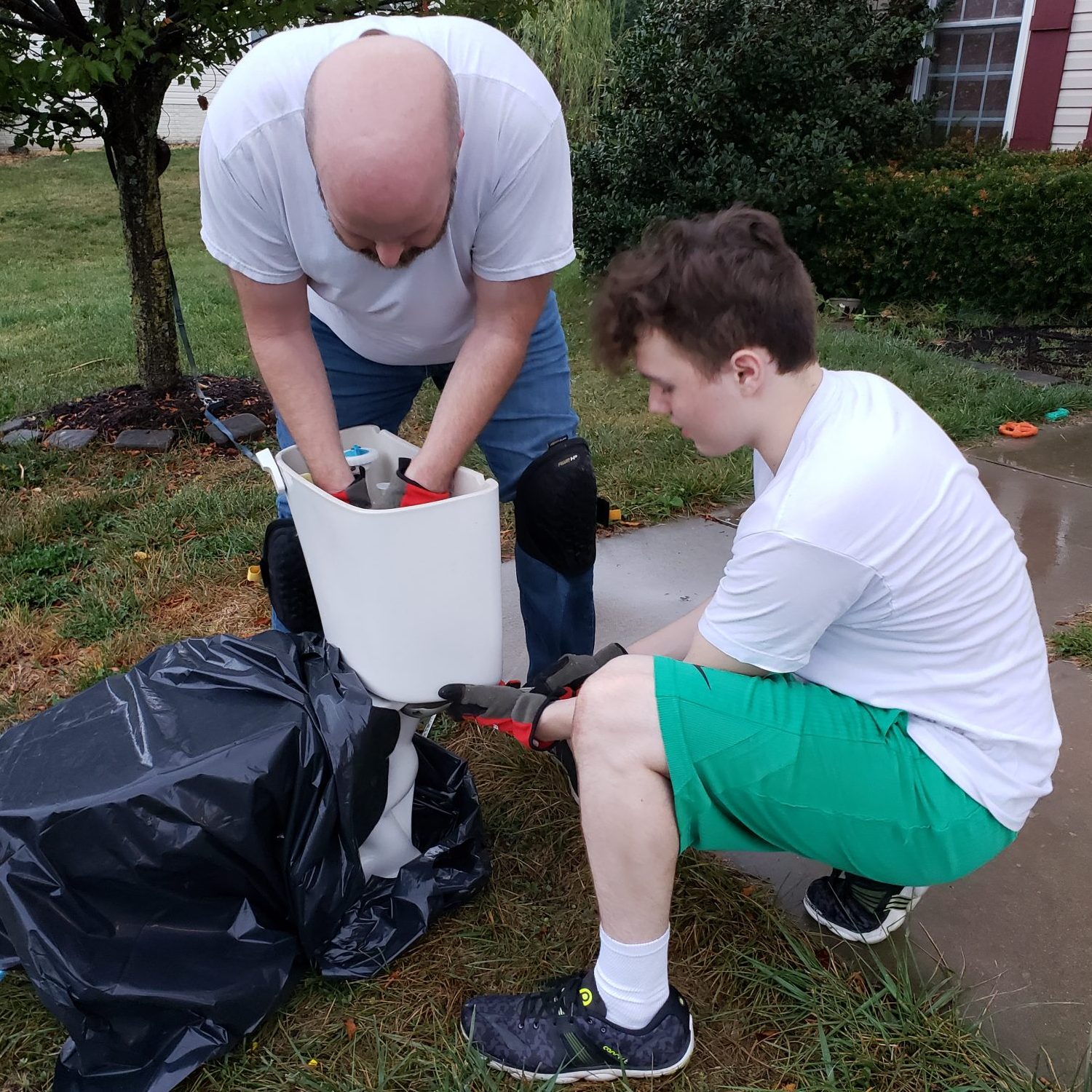 This incremental approach has been a reminder to me, in other areas of life, as well. When I feel something is too big to tackle, or beyond my understanding, I just commit to starting to see if I can pick-up momentum and clarity as I go. I used to be a big believer in the idea of "finishing what you start," and, of course, it is important to honor our commitments to others, where applicable. However, with age, I have realized there is value in just starting and there is no shame in trying things that you are not able or do not want to finish. Either way, you gain new insights and a deeper understanding of yourself. Not all hard things are worth doing, but when we feel they are, it's worth trying.
4. KNOW WHEN TO ASK FOR HELP, BUT TRY FIRST & YOU MIGHT SURPRISE YOURSELF
And, try we did! The sub-floor, the drywall, installing a clawfoot bathtub, waterproofing Schluter Kerdi Board, tiling a shower, installing plumbing; these were all tasks that, upon starting, our immediate impulse was to call in the professionals for help, surrendering to the DIY bathroom remodel monster. But, one by one, we learned that if we just start, more often than not, we'll find a way to figure it out.
Except this hunk of concrete under our original tub that was a literal roadblock to our early momentum. It weighed too much to move, and after a few wholehearted, but unsuccessful, blows with the sledgehammer, we realized we would have to find another strategy. It turns out, a little help was what we needed. Our construction friend, Josh, stopped by to take a load of debris to the dump for us, and with a few strategic taps, he had the perplexing rock shattered into manageable pieces that we easily removed.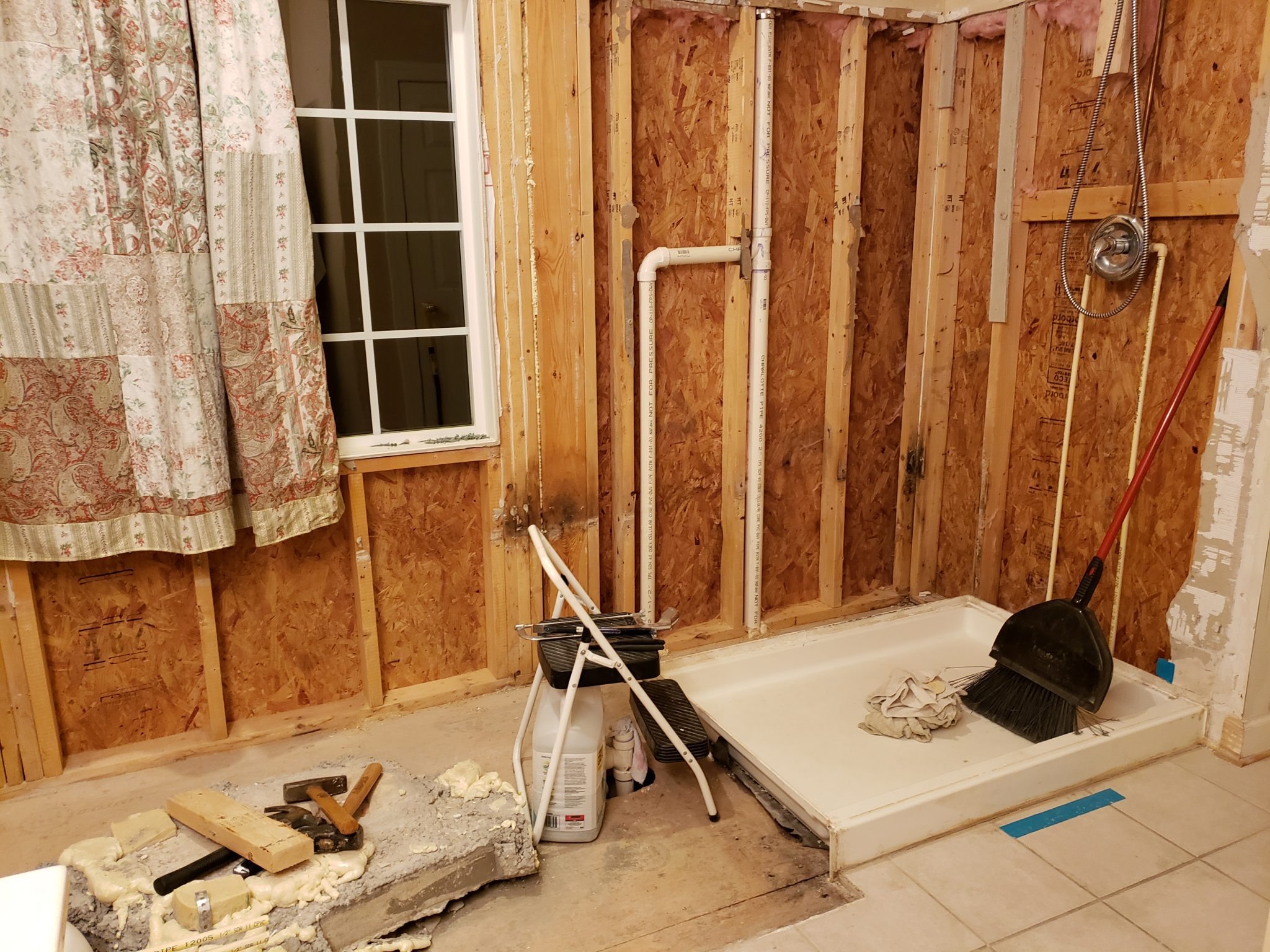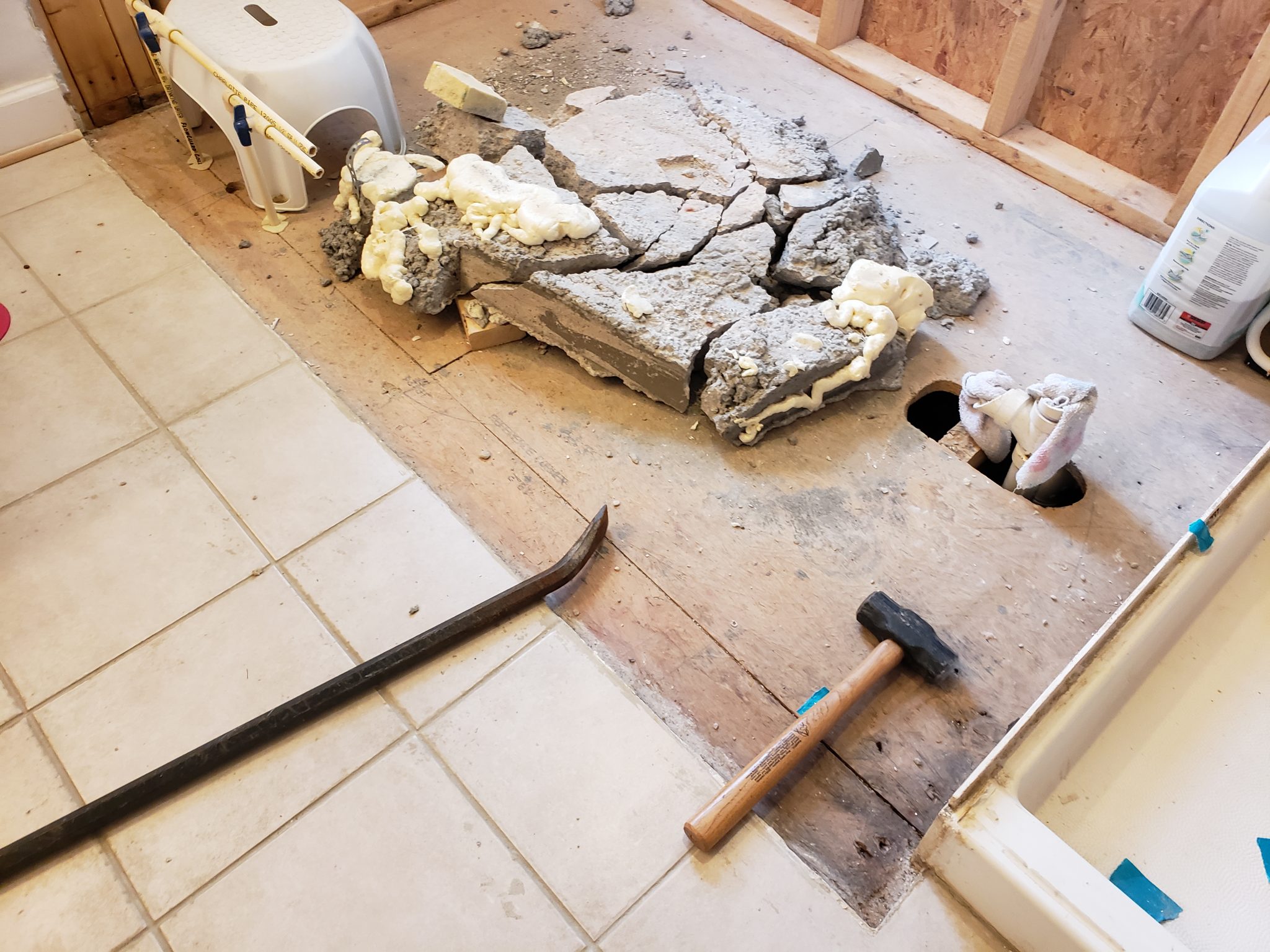 So, it's important to know your limits and not be afraid to ask for help. Some things are worth doing and some aren't. Sometimes saving a little money is not worth your time and energy, and your energy is better spent working to make money, while you pay a professional to get your renovation done in a timely manner. There is no doubt that if we had hired someone to take on our project, it would have been done in the same year it was started. But, because we have three other bathrooms in our home, we felt the inconvenience to our life, even if we took forever to get it done, would be minimal. And, I guess some part of us was craving a challenge. That part is satisfied and moving on from the bathroom remodel challenge!
5. THERE IS NOBODY TO BLAME / MISTAKES ARE PART OF THE PROCESS
On that note, when you take on a project you really have no business doing, you have to accept that mistakes will be part of the process. Going in, we expected to spend a little extra on mistakes, and there were plenty. For example, we mixed a 50 pound bag of Schluter All-Set thinset to adhere the fabric membrane to the Kerdi board (these are fancy shower waterproofing things). The thinset is only workable for a few hours, and it is actually suggested that it be mixed in smaller batches. So, towards the end of the task, the thinset was getting so hard, I could barely finish, but we didn't want to mix a whole new batch for the small section we had left. So, we persevered.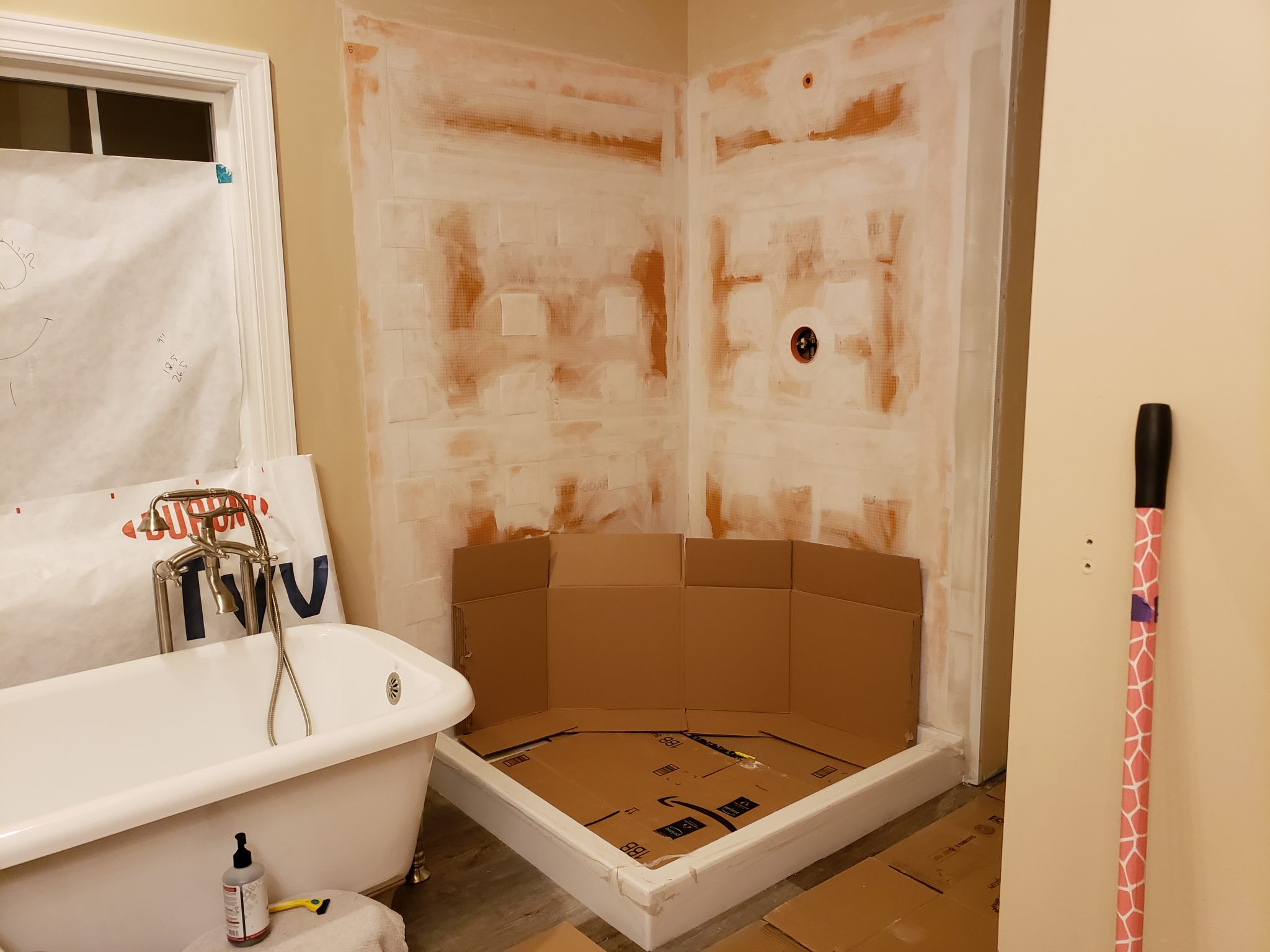 This cost us, later, having to spend a couple days grinding down the back of a row of tiles, where the too-thickly applied thinset created kind of a bump on the wall. And, there were many other mishaps like that one, that slowed us down and provided the fodder for discouragement. But, as we pushed through, these challenges ended up being valuable learning experiences in the bathroom remodel process.
6. SOMETIMES DONE IS BETTER THAN PERFECT
Even with our meticulous care, and desire to do a quality job, our newly-finished bathroom is riddled with imperfections. If we had not been willing to accept them, they would have been a barrier to completion. Still, there were so many times where I found myself wanting to redo things that weren't quite right, knowing it would extend the project even longer. And, Operation DIY Bathroom Remodel could not sustain too many more delays, as its troops were growing weary and morale was waning as we neared the year mark.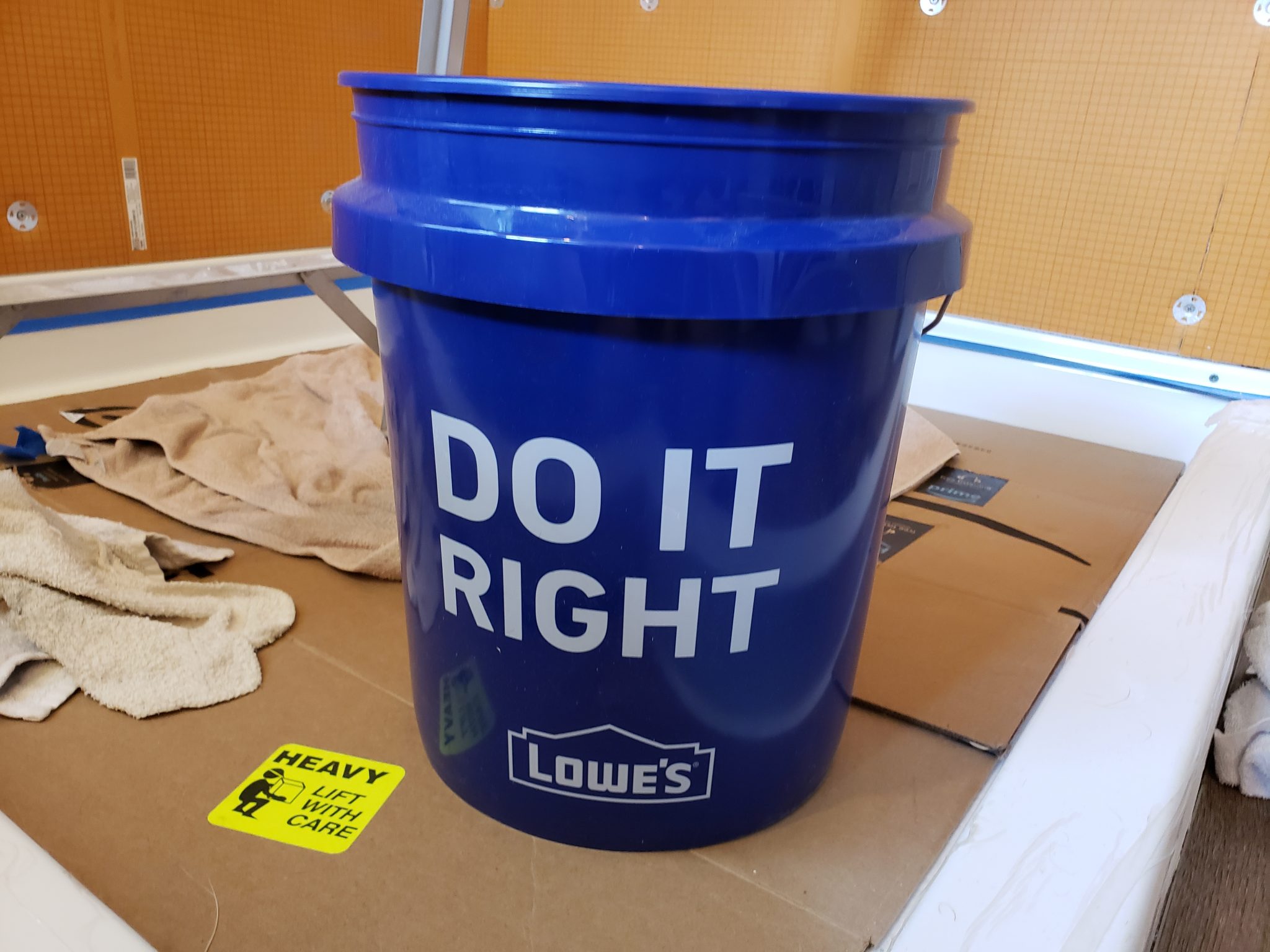 But, as we went along, I realized that when it was all done, it would come together just fine. Even my less-than-professional looking drywall skills, which left some sections a little "textured," and our inaugural attempt at tiling a shower that is now rich with "character," came together to create a pleasant, functional and finished space. As I have heard many times in life, when facing the need to make things perfect, "sometimes good enough, is good enough." And, sometimes you get surprised when good enough turns out to be perfect.
7. LEARNING TO PACE OURSELVES WAS HARD (WORKING AROUND LIFE)
We could be known to mull over how-to videos exceedingly long, just to build the confidence to move forward with the next challenging step. This was a habit we had to learn to temper in order to keep the pace of progress moving along. We constantly had to pep talk ourselves into feeling like we had acquired enough virtual know-how to apply it to real life.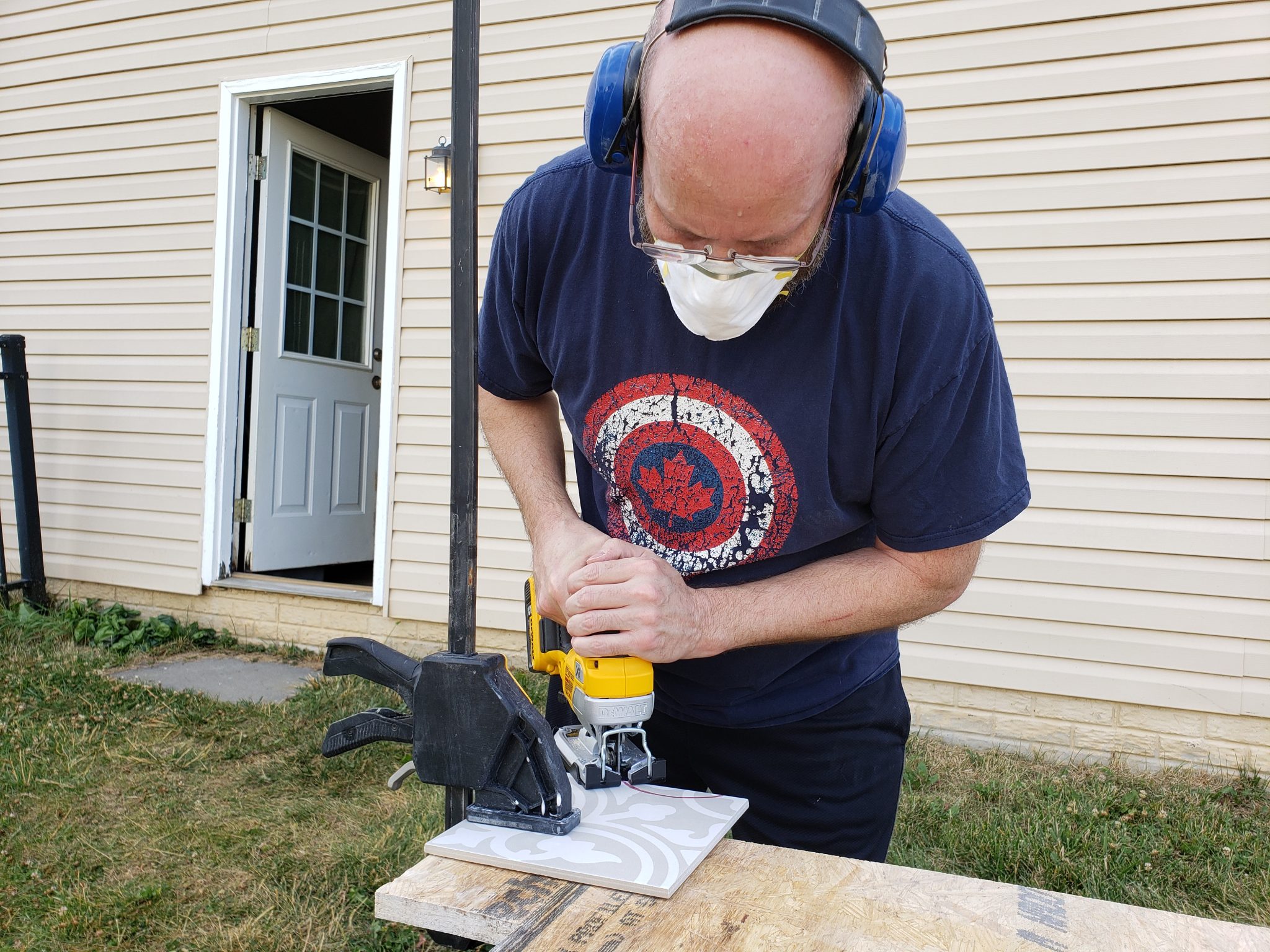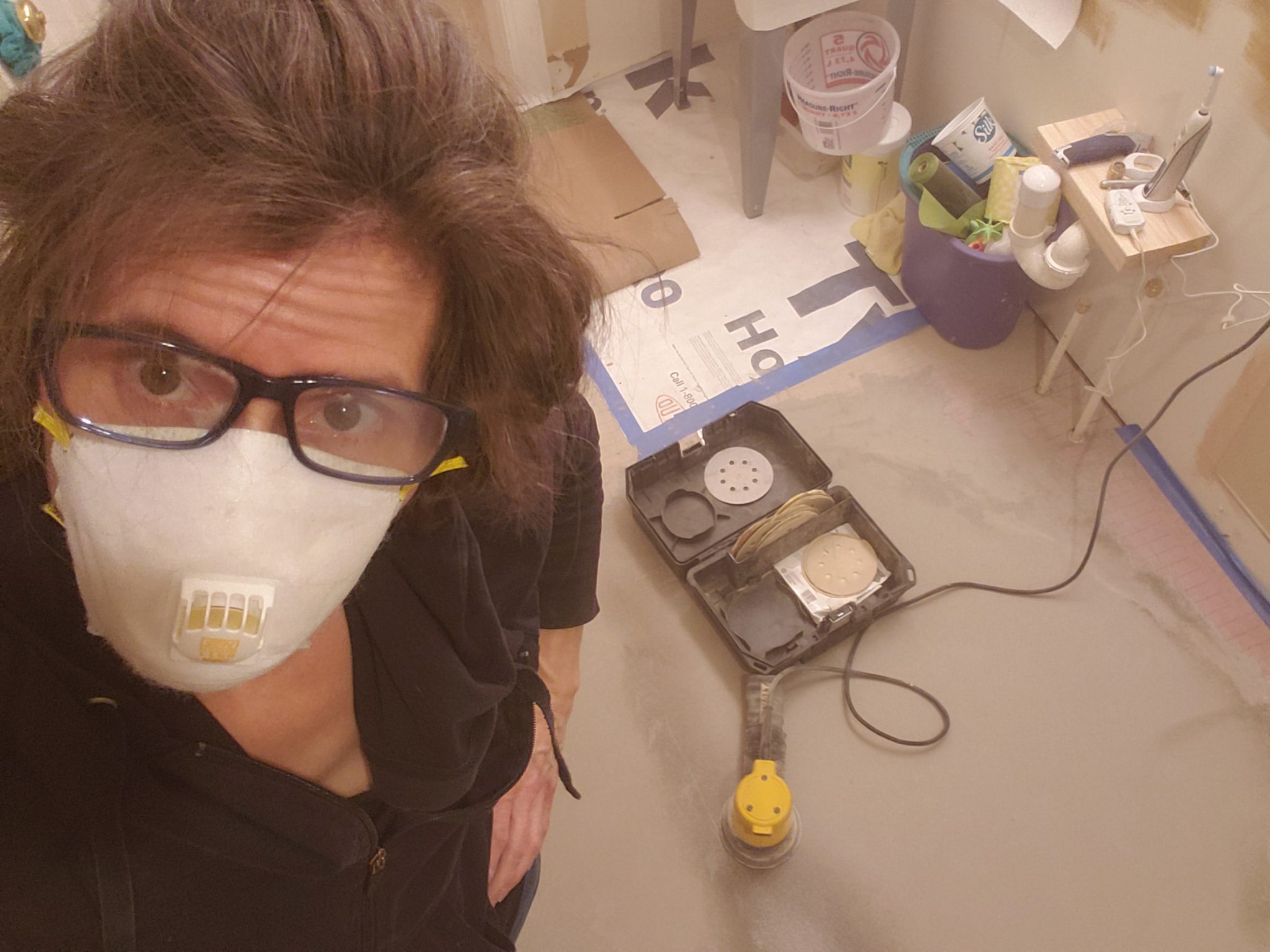 Aside from over-informing ourselves, we, also, had to learn to accept the time restraints that accompany our current lifestyle, and work around them. This was very frustrating at times, when we had a rare moment of energy and wanted to keep working, but had to head off on a hockey tournament trip, homeschooling activity or work a full day of overtime (to fund both the bathroom and the hockey). But, we kept our eye on the prize (a finished bathroom and our sanity intact) and kept moving forward.
At the same time, this maddeningly slow pace that our project acquired probably made it manageable, as well. Looking back, I can't believe all the work we did, because it happened in such small increments over the span of fifteen months. Aside from the shower waterproofing and tiling, we rarely had a work session over three hours long. And, most of the time, we were squeezing in a small task on the list before one, or both, of us had nothing left to give for the day, and were very thankful that the bathroom was only steps from our bed!
8. DIY PROJECTS TEST YOUR COMMUNICATIONS SKILLS
We have been married over twenty-six years and had a good grip on our communication differences, but this marathon of a project was definitely the breeding ground for new awareness. The fact that we chipped away at little tasks, over the period of fifteen months, became a metaphor for how to deal with "issues" in a relationship. If you tend to them while they are small, stay focused on a common goal, and put in a little effort everyday, you usually end up building something worthwhile. And, if not, the foundation was probably weak and it might just be time to start over. Thankfully, in our case, our foundation was in good shape.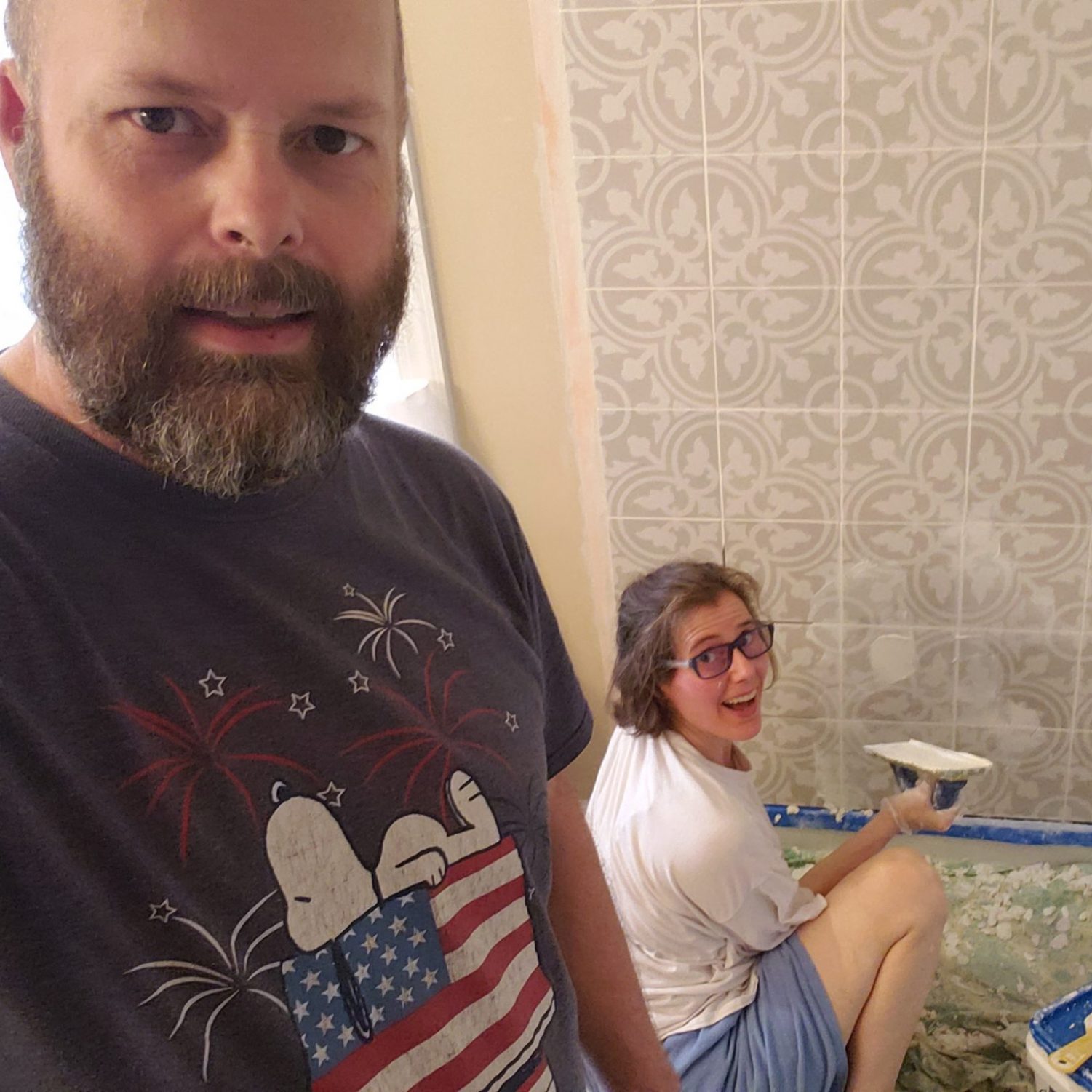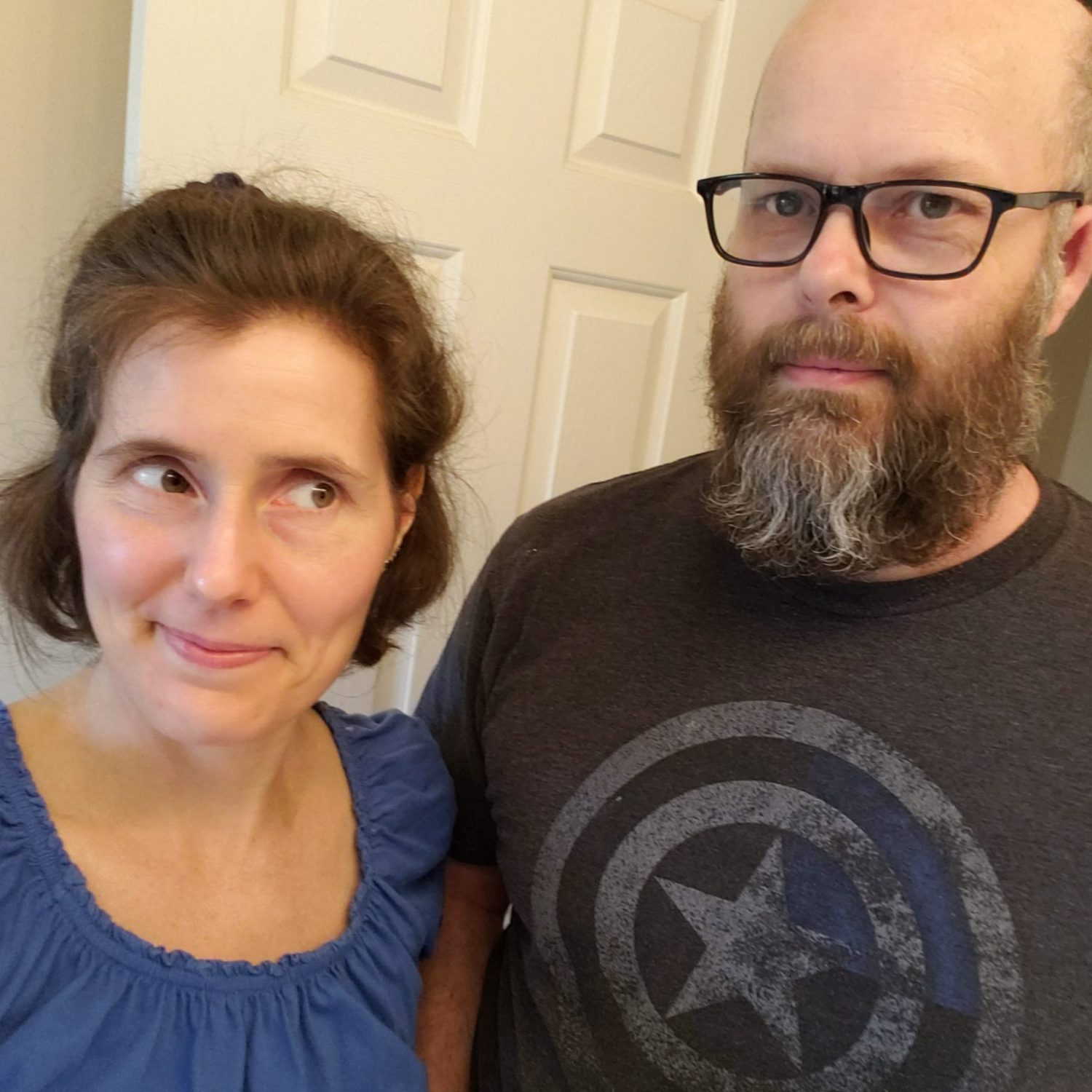 The satisfaction of starting something together, sticking with it when we had completely lost motivation, and now having created a clean and functional space together is a good feeling. But, truth be told, I would be hard-pressed to sign-up for any big home improvements together anytime soon! The next time we feel like we need a challenge, we'll go take a yoga class, sign up for couple's therapy or try something new outside our comfort zone that doesn't involve power tools and drywall.
9. LIVING IN A CONSTRUCTION ZONE IS DISCONCERTING
After each work session, one of the most time-consuming things was cleaning up and rearranging our bathroom to be semi-functional again for the week ahead, until we had time to tackle the next step in the project. And, that was okay. I accepted it as part of the DIY bathroom remodel process.
But, one thing I did not quite anticipate was how our adjacent master bedroom would become a construction zone, slowly accumulating tools and piles of building supplies. Of course, it was more efficient to not bring this stuff back down to the basement or garage every time we used it, as we were just going to need it continually to finish the job, anyway. Nonetheless, our bedroom became a place I wanted to avoid.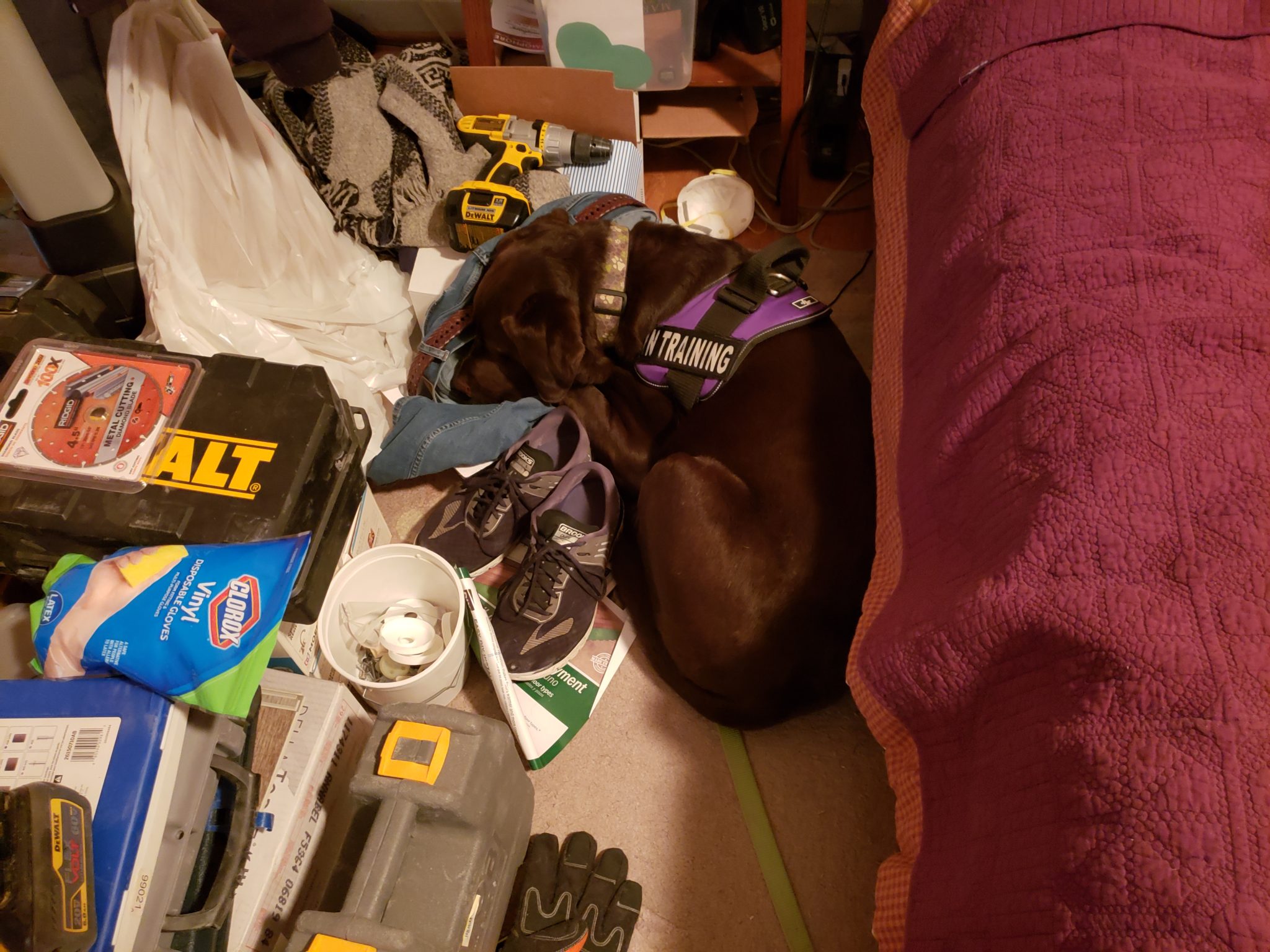 And, this all would have been fine, if the "job" only took a few weeks, or even a few months. But, by month six, or so, one of my motivations to keep going became less about having a functional bathroom again, and more about returning my master bedroom to the restful, serene place it once was. Thankfully, we have returned both the bathroom and the bedroom into spaces we enjoy.
10. WE PROBABLY DIDN'T SAVE ANY MONEY
I wish we had got an estimate for the job, prior to tackling it ourselves, just for comparison sake. But, I have no doubt we came close, if not exceeded, the cost of having a skilled and efficient professional knock it out in a couple weeks. This is partly because we chose a few higher priced items, like the tub, shower base and flooring. Then, we made a handful of mistakes that cost us time and money. Also, we purchased quite a few new tools to facilitate doing the job ourselves. And, lastly, while we did develop a good workflow and knew the direction in which we were heading, we did not have a clear plan at the beginning, so we didn't set a budget.
Our focus was to just do the best quality job we could, doing the work ourselves and keeping materials mid-grade, using things we could find, mostly, at our local home improvement store, and re-purposing a few things we already had. So, I guess you could say what we paid for the experience more than saved a ton of money.
IN CONCLUSION
So, as it turns out, the DIY bathroom remodel experience turned out to be more than just the transformation of a space within our home. It, also, became an exercise in perseverance and finding balance between pushing towards completion and prioritizing self-care in the process, by pacing ourselves around other life obligations. The complexity of the project forced us to be in the moment, take our time, and accept our limitations, while, at the same time, providing opportunities for skill-building, communication and personal insight. And, it is with a sense of accomplishment and relief, that I close the master bathroom remodel chapter of our life, and move on to new projects!
BONUS INSIGHT:
Current mainstream building practices are far from sustainable or eco-friendly… but that's a topic for another post.